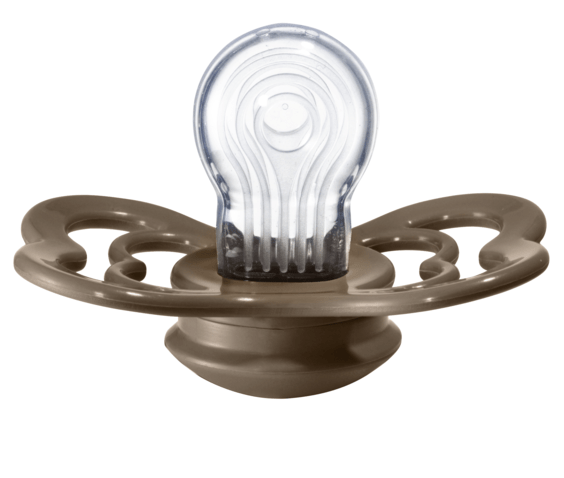 Bibs Pacifier
BIBS Pacifier SUPREME Silicone 2 PK Dark Oak
Sale price
$ 8.25
Regular price
$ 15.99
Thanks for signing up for restock notifications!
There was an error signing up for restock notifications. Please try again.
Sign up for restock notifications
The elegant shield is designed to ensure optimal passage of air so that the skin around the mouth remains dry.
Size 1: 0-6 Months
Size 2: 6-18 Months
2 PACK
The BIBS Supreme pacifier has a symmetric shape made in lightweight polypropylene (PP) – completely FREE from BPA, PVC and phthalates. The flat nipple is designed to support proper jaw development and minimize the pressure on the teeth. The nipple is symmetrically shaped.
100% free from BPA, PVC and phthalates.
Designed and manufactured in Denmark.
For hygienic reasons, we recommend discarding pacifiers after 4-6 weeks.
Care Instructions:
Sterilize each pacifier before use. Bring water to a boil and pour boiling water over pacifiers. Let the pacifiers soak for approx. 5 minutes. Pick them up and let them dry. The pacifier nipples may retain water, simply squeeze the nipple to release and lay to cool and dry for 3-4 hours. If the pacifier shows any irregularities, we recommend that you discard right away. Due to our pacifiers being made with natural rubber, the nipple may expand with use
FOR YOUR BABY's SAFETY
Do always inspect the product carefully before each use. Especially when the baby has teeth. Pull the pacifier in all directions.
Discard it at the first sign of damage or weakness. Only use dedicated pacifier holders tested to EN 12586. Never attach other ribbons or cords to a pacifier, your baby may be strangled by them. The pacifier is not allowed to be stored in direct sunlight.