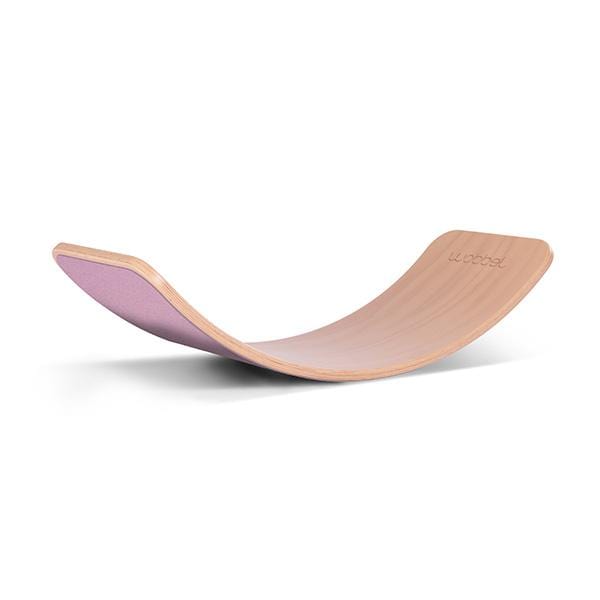 Wobbel
Wobbel Waldorf Balance Board Natural / Wild Rose Felt
Sale price
$ 199.00
Regular price
$ 199.00
Made In: Belgium
Product Size: L: 36in W: 12in
Age: 3 years +
Safety: Manufactured according to the stringent American (ASTM) and European (EN-71) Toy Safety standards
The basic Wobbel model without felt

What is a WOBBEL? 
It is a sturdy, beautifully crafted beechwood rocking balance board, a seat, a safe haven, a bridge, a house, a step, a slide, a yoga aid, a fort, or a dinosaur!! It can be anything you want it to be!!! Children instinctively know what to do with them! Wobbel encourages active imaginative play. It builds strength and balance as well as creativity. And not just for kids- adults can have have fun too! 

Wobbel balance board: The wooden toy that moves young and old. A Waldorf classic redesigned!
The story of the Wobbel
The Wobbel finds its origin in the Waldorf schools. With the Wobbel we present this classic balance board in a modern design and contemporary editions.

Strength
The Wobbel stimulates balance and strength during play and use. In a playful way, but very efficiently, it supports physical awareness and balance. When using it as a training device, specific muscle groups can be isolated, while other exercises train big muscle groups. This goes for (young) children, adults and even the elderly. 

Peace and Quiet
In our own experience the Wobbel works like a magnet on children and offers them many play possibilities beyond balancing fun. The Wobbel is meant not only for exuberant and playful games, but also for quiet moments and individual play. The board can be a bridge, a fort, a foundation for a rainbow tower, and countless other imaginative things!

Beautiful
The Wobbel is made with many layers of the best European beech wood (FSC), which are stacked and pressed under high pressure, and has a uniquely designed curve.
Because of its shape and looks, the Wobbel is a toy that doesn't need to be put away after playing with it. It looks great in every living room. It is designed for indoor use, but can be used outside with sufficient care.

Practical
Children are open minded and keep finding new uses for the Wobbel. It's an ideal step in for example the kitchen, so children can wash their own hands without help and bake cookies of course.

Age and weight
The standard Wobbel and felt-finished version are designed and CE certified for children of 3 years and older, but is also suitable for older children and adults up to 200 kilograms. The Wobbel is a balance board to be used standing on it. Other uses have not been tested and certified, so Wobbel B.V. cannot guarantee its safe usage when used in other ways. Never let them stand or sit on the sides.

Use and safety
The Wobbel is a very mobile toy and, as always with these kinds of toys, parental or adult supervision is required. Especially for children of younger ages. A few guides for using the Wobbel:
Make sure your child always uses the Wobbel under adult supervision;
Let your children get used to the Wobbel slowly and help them by giving them a hand or two. Make clear appointments about what can and can't be done with it;
Never wear socks or smooth shoes. Bare feet or shoes that aren't slippery prevent accidents;
Take care with fingers at the edges. Teach your children from the first use to always keep their fingers away of the edges;
Make sure the is at least 2 meters of free space around the Wobbel (including other children). Place the Wobbel on a level surface;
The Wobbel is designed for indoor use. It can be used outdoors, but will wear quicker. Never leave outside, because water and moist will eventually damage the wood, paint, and/or felt;
For vulnerable surfaces or floors that aren't scratch resistant we always recommend using a mat, carpet or rug underneath the Wobbel, even if there is felt underneath. Unprotected parts can still damage your floor or the Wobbel could get damaged.
The Wobbel can get damaged by the use on hard and or irregular floors. Especially pay attention with tile flooring. We recommend using a mat, carpet or rug underneath it. Moving or dragging the Wobbel over these kind of floors with the concave side up (ᴖ) the edges could get damaged.
Users that are or were under the care of a physical therapist for their musculoskeletal system are advised to contact that therapist for proper use of the Wobbel.

Cleaning and maintenanceIt is advised to clean the Wobbel with a damp cloth, combined with a mild detergent if necessary. It's important to wipe it with a dry cloth after cleaning.
The Wobbel doesn't need any special maintenance.

Technical informationThe Wobbel is made from sustainably harvested European beech wood (FSC) which is pressed and finished with water based lacquers and stains. 

The Wobbel is CE certified according DIRECTIVE 2009/48/EC OF THE EUROPEAN PARLIAMENT AND OF THE COUNCIL of 18 June 2009 on the safety of toys and conforms to ASTM testing standards. 
Please note: Due to its size and weight, the Wobbel can only ship within the 48 contiguous United States. Fastest (Express) shipping is not available for this product.