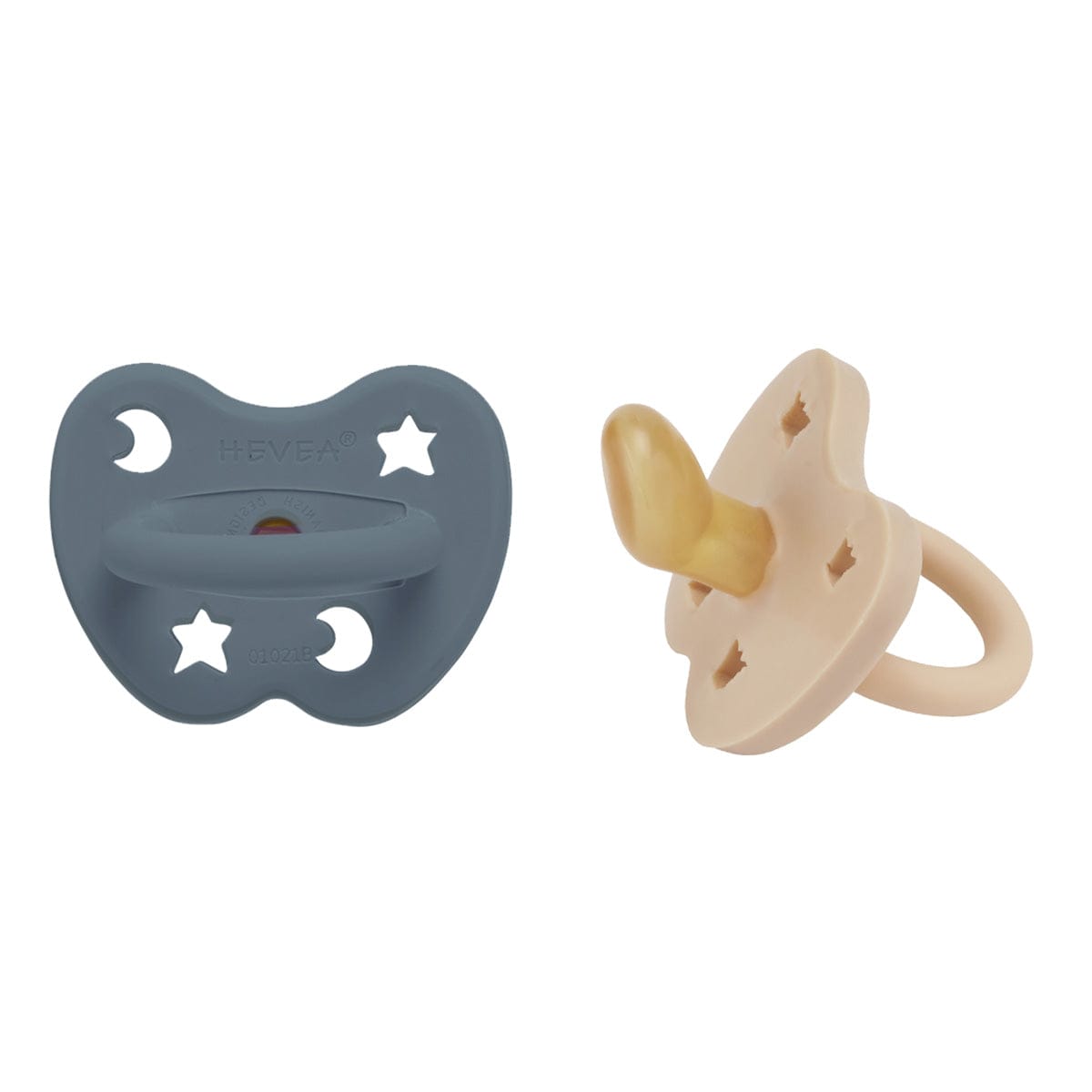 Hevea
Sand & Ocean Blue Orthodontic Pacifier 2 Pack (3-36 Months)
Sale price
$ 17.95
Regular price
$ 17.95
This two-pack of HEVEA® 100% Natural Rubber Pacifiers is perfect for babies and toddlers from 3 to 36 months. HEVEA pacifiers feature a seamless one-piece build that makes them easy to clean and hygienic. The natural rubber teat and face ensure the pacifier is soft to touch and gentle on your baby's face and lips. And the fun cut out shapes on the face ensure your baby's safety while also having some adorable fun! 
And like all HEVEA baby products, our 100% natural rubber pacifiers are eco-friendly and safe for both your baby and the planet. 
Benefits of the HEVEA 100% Natural Rubber Pacifier (with Orthodontic Teat)
NATURAL AND SAFE FOR YOUR BABY – Our 100% natural rubber pacifier is vegan certified and completely free from plastic, silicone, and BPA. Additionally, our FDA approved color pigments are also natural 
LEAVING GREENER FINGERPRINTS FOR OUR PLANET - Not only are our pacifiers 100% biodegradable, so is their packaging - we use a FSC® certified box with Earth First® window, made from plants
PICK A SHAPE TO YOUR BABY'S PREFERENCE - With three teat options to choose from with HEVEA pacifiers, the orthodontic teat shape is designed to prevent tooth misalignment issues later on with a flattened bottom and round top 
DANISH DESIGN - Not only do our pacifiers look amazing - with four adorably-shaped ventilation holes (surpassing safety standards), the teat's ventilation hole makes the teat super soft and malleable for baby, while also being durable to resist baby bites
HYGIENIC – The one-piece design means no hidden nasties. Plus, our pacifiers are incredibly easy to clean – simply sit in freshly boiled water for a few minutes - see more information about how to sterilize and keep clean here
 
Always check the pacifier for wear and tear. In accordance with international standards, and for hygienic and safety purposes, we recommend replacing the pacifiers every 6-8 weeks.